Are you a Feminist?
Recently, a great discussion ensued on the Lady Bloggers forum regarding Feminism. It's really interesting and I'd like to encourage you to stop by there by clicking the image above and check it out.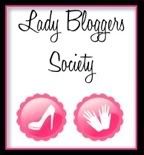 Here was my response/input:
"Feminism is…
Feminism is a vast array of things. Our mothers feminism may not be our feminism, but it's still feminism. There are entire schools of thought on this topic of which I've spent a considerable portion of my educational career invested in.
Feminism is NOT a negative thing unless a person makes it to be as such. Feminism is not a result of a mistake that God made. Theologically, I don't think that God made mistakes. I think the division of sexes and the patriarchal structure that suffocates so much of our global culture is a result of sin and not creation. I believe men and women were both molded by the hands of God and are uniquely and wonderfully made.
I am a feminist. I am also a number of other things like: a career woman, a wife, a mother, a student, a minister, a teacher, an activist, a peace keeper…I am me and feminism is just a part of who I am. It is a part of who I am because I am against oppression and violence against women in any form. This does not make me a male hater…I'm in love with one and gave birth to one…and I love my boys. As a feminist, I am for women being able to choose the life they want to lead. If you're Muslim and you choose to wear your veil because you want to, then I want you to be able to do so. If you are a stay at home mom and that's what you love, I want you to be able to do what you love.
This is too big of a topic for me to just summarize in a few paragraphs…but feminism is what we make it. It's our feminism. It's our voices working together to strive for the best opportunities…it's a part of our pursuit of happiness. It is also a human construction and it is flawed. But feminism has afforded us the right to make the choices we do in a world that didn't want to give us any voice. I think we often take for granted the work done by women, whether they called themselves feminists or pioneers or something else, that came before us. We are able to have the opportunities we do today because women before us were brave enough to stand up to injustice. Are we brave enough to do the same?"
This forum discussion has inspired me to open up a dialogue on feminism here on CGM.
I'm interested to know:
What do you know about Feminism?
Do you find yourself to be a Feminist? Why or why not?
How does Feminism affect your day-to-day life?
Can Feminism co-exist with Christianity?