A Movie Marathon of Olympic Proportions Just For You!
Suggested Viewing Schedule:
------------------------------------------------------
Monday Night:
Cool Runnings
Tuesday Night:
The Cutting Edge
Wednesday Night:
Blades of Glory
(Suggested for Adults Only)
Friday Night:
Olympic Opening Ceremonies @ 7:30pm EST.
I have long enjoyed these movies which boast fabulous winter Olympic flare. Each one is filled with tremendous amounts of laughter and each one with fluffy warm endings...even that weird selection, Blades of Glory. ;-p Read below for brief reviews. I have checked Netflix and each film is currently available through them so be sure to request them quickly for the marathon (none are available for instant watching on Netflix however). Click on the movie cover to go straight to Amazon to purchase. There is also the original movie trailers for your viewing pleasure.
1993 / Rated PG
This is a great movie for the WHOLE family. I remember watching this movie with my parents as a kid and just having a ball with it. To this day, my brother and I still quote Cool Runnings on a consistent basis. I should say, we quote Shanka on a consistent basis. Cool Runnings has everything you want in an Olympic movie: great characters, great story of adversity and perseverance and its paired with the heart of Disney. This movie is packaged with an unexpected ending, but one that is good for children of all ages, even adult children, to experience. It's got Jamaicans. It's got Ice. It's got AWESOME WINTER OLYMPIC MOVIE written all over it. Did I mention this movie has the late, great John Candy? At his best!
1992 / Rated PG
Just in time for Valentines Day and the Olympics this is a double whamming of romantic comedy meets winter Olympic radicalness! (Shhh...I know I made that up but I'm trying to bring back the word Rad). Anyway, anyone who has ever seen this movie totally understands the double and triple meanings of "Toe-pick". There is passion, love, tension, commitment, anger, betrayal, heat...and that's just off the ice. The skating is fun, the competition is funner! There are a couple of could-be questionable scenes for the "family" but just keep your eye out for it if this is something that concerns you. Otherwise, kids of ALL ages are in for a good time with this movie. Note: Others may disagree, but I do not recommend the sequels to this movie. They make my nostrils flare...and that is not some righteous flarage!
2007 / PG-13
Oh Will Ferrell in glittery multi-colored spandex...whatever WILL we do with you?
This movie is inappropriate, crude and often absolutely hilarious. Ferrell plays Chaz Michael Michaels who, along with Heder go from being men's individual skaters to a men's pair (through a very interesting set of circumstances). I do not recommend this movie for kiddos and some adults, so view this movie responsibly. :-) It's a good laugh though and it helps us laugh at some of the quirkiness that is human beings in competition.
2004 / PG
Miracle is one of my all time favorite movies. I can watch this movie over and over and never get tired of it. Triumph over adversity is the very essence of this movie and what makes it sweeter is that it is based on the real story of the "Miracle on Ice", the 1980 USA Hockey Team at the Olympics in Lake Placid. Do I love hockey? Yes. Do I love hockey players with hypnotizing Bostonian accents? Yes, Yes. Do I love hockey players with adorable Minnesotan accents? Well...Yes. Do I love Kurt Russell? Ugh...sure...especially in this movie! Heart and Hockey. I can't watch this film without crying and I sat in a theater filled with men who were also balling, so I know its not JUST me. This is truly a moving movie. Often used in sermon illustrations, Miracle highlights the very championship nature that exists within each of us. I give this movie Five Hockey Pucks for recapturing the greatest moment in sports history. Do you believe in Miracles???
Have you seen one or all of these movies?
Do you have a favorite?
Which one do you plan on watching before the winter games?
Come back tomorrow for some great Olympic ideas for the kids. Happy Monday y'all!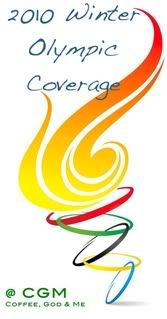 Grab the Button and Link Back to CGM for 5 Olympic Points towards your metal. Click
HERE
for more details.