2010 Winter Olympics: February 12th - February 28th
There are few things I enjoy watching on TV more than I enjoy the Olympics. As a kid I would pretend I was in the Olympics. As an adult I pretend I have enough money to actually watch the Olympics in person or hop on my Wii and pretend I'm in the Olympics. As a humanitarian I enjoy the short time we have as a world every two years where we actually realize we are all a part of one whole and unified creation...under God (whether some choose to acknowledge that part or not). And yes, I tend to cry during the Olympics because I love watching people conquer adversity with heart and perseverance.
Since October 30th, the torch has been making its way to Vancouver where the 2010 Winter Olympics cauldron will be lit this Friday, February 12th. NBC will be covering the games and will broadcast opening ceremonies beginning at 7:30pm EST. Go to
http://www.nbcolympics.com
/ to find out more about local scheduling and TV times. This site allows you to put in your zip code and your TV provider in order to give you the most accurate schedule. For a broad schedule of the games, go to the main website of the 2010 Winter Olympics,
http://www.vancouver2010.com/
and/or
http://www.vancouver2010.com/olympic-schedule-results/
.
I'm going to be blogging and yes, even "vlogging" (video blogs) about the Olympics, so be sure to make CGM a daily stop for Olympic commentary and read what others have to say too. In honor of the Olympic games, I will be awarding (in image form) a Gold, Silver and Bronze medal to the three top commentators on CGM during the games.
Each day you comment, you get a CGM Olympic Point
. The three with the most points will receive medals during a very special closing ceremony. Fun, fun, fun!!!
So let's get ready for the games! Tell me what you look forward to watching the most: Shaun White shred some serious slope during snowboarding competition, couples figure skating that DOES NOT include Will Ferrell in tights, hockey at its finest (one word: Miracle)? Something else?
Coming This Week:
Monday
-
Must See Movies to Tone You Up for the Olympics
Tuesday
-
The Olympics and Your Kids (A Must Read)
Wednesday
-
A Special "Guest" Article on Maximizing Your Health w/ Confidence
Thursday
-
Finding God in Competitive Sports
Friday
-
Opening Ceremonies
Grab the CGM Olympic Button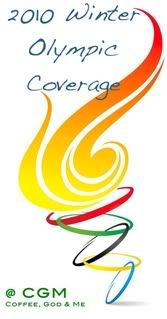 (Let me know you put this on your blog or FB and you'll automatically get 5 CGM Olympic Points to go towards your medal).